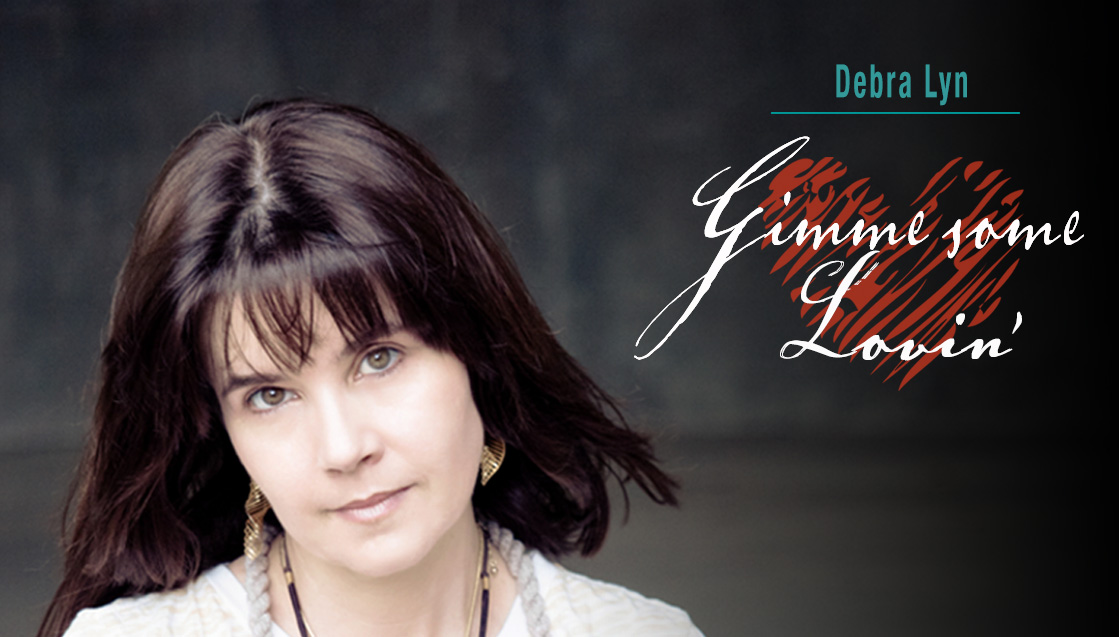 DIGITAL DOWNLOAD SPECIAL
BUY ONE GET ONE FREE!
Gimme Some Lovin' Single by Debra Lyn
A PALETTE RECORDS EXCLUSIVE: iTunes Friendly GSL Package
with Special Bonus Track, "A Cold Wind Blows"
Normally $1.98
What's Being Said About Debra Lyn
"A Cold Wind Blows is an Americana Gem." — John Mullins, SESAC Nashville (RE:A Cold Wind Blows Album)
"Debra Lyn's music is both moving and haunting, as she weaves a poignant story through the fabric of melodic instrumentation. A must-listen!" — Shelley Dudley, Host of ROCK THE SYSTEM
"This gives me chills . . . in a very GOOD way! Absolutely beautiful and haunting . . . love it."
— Laura Sullivan, Grammy® Winner – BEST NEW AGE ALBUM (56th Annual Grammy® Awards)
"A Cold Wind Blows," meaning both the title song and 10 selections that follow, details the different phases of relationships. Debra Lyn achieves this with vocal performances so compelling that listeners have a blueprint, courtesy of one of the more pleasing and clear voices of experience; a singer whose songwriting pen adds an ink-filled flourish consistent with the creative license of imagination."
— Stacy Harris, Stacy's Music Review
GIMME SOME LOVIN'
Studio Single
Produced, Arranged,
Engineered, Mixed & Mastered by:
Jeff Silverman at Palette (MSP) music • studio • productions
Mount Juliet / Nashville, TN • www.palettemusic.net
MUSICIANS:
Lead Vocal – Debra Lyn
Background vocals – Debra Lyn, Jeff Silverman,
Matthew Burgess and Tim Lorsch
Drums/percussion – Matthew Burgess
Strings – Tim Lorsch
Guitars/ Bass – Jeff Silverman
Steve Winwood, Muff Winwood, Spencer Davis
Universal – Songs of Polygram International INC
Kobalt Music Pub America | OBO F S Music LTD
Watch GIMME SOME LOVIN'!
Video clip from the "Songwriters In The Round" Live-Feed Event
The video above is an excerpt from the "Gimme Some Lovin' Songwriters In The Round" concert hosted by Palette Studio and Rick And The NEWSflash, featuring Jeff Silverman – Guitar & Vocals; Jon Mullane – Guitar & Vocals; Matthew Burgess – Percussion & Vocals; and Debra Lyn – Lead Vocals & Bass
VIDEO CREDITS: Lotus Leong – Director/Producer; Kristine Fluck – Photographer & Videographer; Lorraine Birt – Videographer; Shelley Wallace – Social Media Promotions; Michaela Fluck – Production Assistant
VIDEO EDITING: Heiko Gentsch, Gentsch & Gentsch Ideas Agency, Hamburg, Germany
Produced, Engineered, Mixed and Mastered by: Jeff Silverman, Palette Music Studio Productions (MSP), Nashville, TN
PROMOTION: Art Tawanghar – www.freemusicpromo.com
There are so many people to thank that helped in the creation of the GIMME SOME LOVIN' SONGWRITERS IN THE ROUND VIDEO that we have a page devoted entirely to this production. The full length video features performances by Jeff Silverman, Jon Mullane and Debra Lyn with Matthew Burgess (our very own "Percussionator") keeping the beat. Please click here to see the video and credits for everyone that added their own special touches to make this possible.
---
"Gimme Some Lovin'" is a song written by Steve Winwood, Spencer Davis and Muff Winwood, although solely credited to "Steve Winwood" on the UK single label, and originally performed by The Spencer Davis Group. The song was later made popular by the Grateful Dead. The basic riff of the song was borrowed from the Homer Banks song "(Ain't That) A Lot of Love", written by Banks and Willie Dean "Deanie" Parker.[3] "Gimme Some Lovin'" was a UK No. 2 in the Autumn of 1966 and a US No. 7.[4] The song is ranked No. 247 on the Rolling Stone magazine's list of The 500 Greatest Songs of All Time.
Source: Wikipedia: https://en.wikipedia.org/wiki/Gimme_Some_Lovin%27