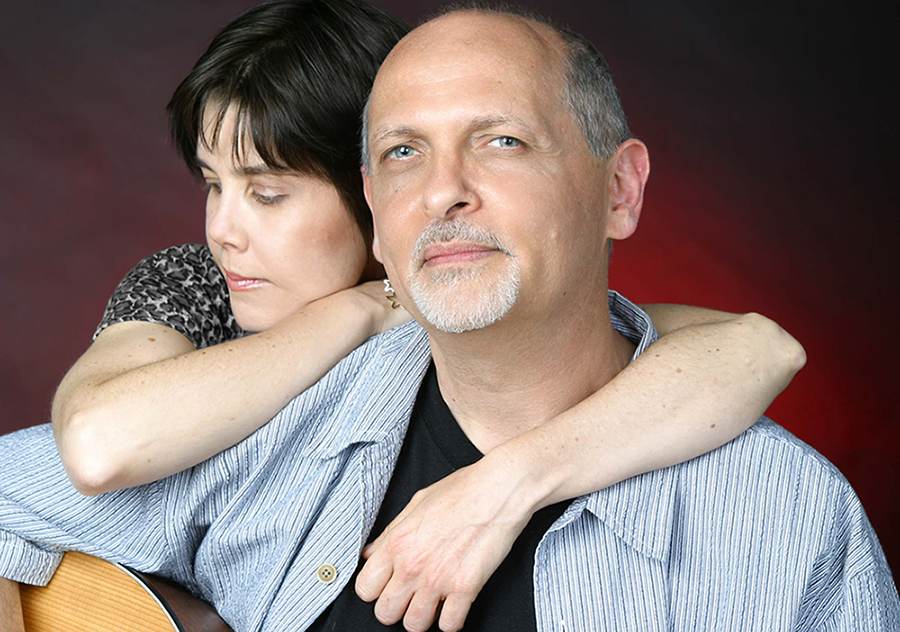 Founders
A solid foundation is the basis to any successful relationship as well as as any business co-venture. Debra and I have created that in our lives together for the last 10 years and counting. A relationship and a partnership based on love and trust. Now, we're taking the same philosophy and applying that to the new Palette Records. This foundation is the basis for each and every artist / partnership. We are committed for the next 10 years (and counting) and ready to pursue new ways to promote our art in ways we all would have never thought possible.

Note From Jeff:
Achievements are all relative, but I would like to say that being a "Lifer" in the "business of music" is one that I am very proud of. I bring over 35 years of experience to Palette Records from a variety of facets of the music business. Being an Independent Contractor has meant that I have not only had to manage every aspect of my career – I have also had to wear many "hats" throughout the years. I am the owner/operator of Palette Music • Studio • Productions. In this capacity, I not only enjoy the artistic and creative aspects of producing artists, I have also negotiated and secured production, publishing and licensing agreements pertaining to the the music industry and film and television.
I am also a former Motown / LA staff writer. I've been a touring and studio musician with artists such as Rick Springfield and Roger Miller. I have been a music editor for film and television and I even pursued my own artist career with the legendary Sound City Studios. Additionally, I have had the opportunity to work with many innovative business partners such as Vic del Rosario, the owner of Viva Film & Records in the Philippines and Andrew Stern, a well known Beverly Hills, California attorney.
Most recently, I brought all the parties to the table for the licensing deal for the "From The Vault (A Collection of works from Rick Springfield and Jeff Silverman)" which was released on Frontiers Records, Italy. To read more about my background, see below or visit www.palettemusic.net
Palette Records would not have initially come to be without the foresight, imagination, motivation, skills, love, dedication and talent that Debra brings to me, each artist and to the true meaning that represents the backbone of Palette Records. Now that we have this solid foundation in place, we feel that the incredible talents involved and the synergy that we are already creating together as a relationship and partnership, will take us all on what we feel will be an incredible journey.
Thank you to each and every one on board for being believers and for bringing your incredible gifts and imagination that we both envision, will make Palette Records stand strong for many years to come.
Note From Debra:
When Jeff and I first started talking about the possibility of creating Palette Records, I immediately thought about all the different skills I could bring to the table in addition to being an artist myself which can find more details on my artist page.
I actually have 20+ years of administrative experience – 15 of those being in the nonprofit sector. Throughout most of this time I co-managed a national nonprofit 501(c)3 conservation organization and museum. In this role, I was responsible for much of the day to day operations. I handled everything from payroll to the supervision of staff. I also managed the association's membership and coordinated special fundraising appeals in conjunction with the executive director and board of directors.
This position also gave me a unique opportunity to get my feet wet and begin learning graphic design. One of my first graphic assignments was as the editor for the association's membership magazine. In this capacity I solicited and wrote articles as well as created the layout/design for the magazine. I later went on to develop these skills further by working at several print shops where I learned first-hand the ins and outs of the printing industry. I am now the owner/operator of DLS Graphics. Through this I provide graphic and website design as well as printing services. This site and www.palettemusic.net are very good examples of my work and you can find more on my graphic design site at: www.dlsgraphics.net
Straddling both the corporate and artistic worlds is not always easy. I've surprised many people who know me as a business person when they find out that I am also a singer/songwriter. Having administrative skills is definitely an asset when dealing with the music "business." It is not enough to have the greatest song — you need to have the perseverance and insight to find innovative ways to get your music heard.
Our reason for creating Palette Records was to provide a vehicle for other like minded artists, like me, to pool our talents and ideas and find new ways to benefit not only our own careers, but to also boost the profile of the record label and in turn the artists associated with it.
My goal is to utilize all of my skills, administrative and artistic to help propel Palette Records forward. I look forward to sharing our art and our dreams with you!
About Jeff:
Jeff Silverman is Founder, Owner and Operator of Palette Music Studio Productions (MSP), Virtual Studio Networks (VSN) and Co-Founder of Palette Records with artist Debra Lyn, "A record label formed by artists – for the artists." He is a veteran producer, engineer, songwriter, accomplished musician, singer and music/audio editor and composer for film and TV. He is also a former (LA) Motown staff writer and has nearly 40 years' of experience in the music industry.
Jeff is proud to be a voting member of The National Academy of Recording Arts and Sciences -Producers & Engineers Wing and a new member of NPN (Nashville Publishers Network). He has worked on gold, platinum and award-winning projects for artists such as Rick Springfield, The Allman Brothers, B.J. Thomas, Nick Gilder, Charice, Boyz to Men, David Cassidy, George Clinton, Paula Abdul, Prince, Kevin Raleigh, Jules Shear, Hiroshima and Stephen Bishop.
Songwriter Credits include: Rick Springfield, Nick Gilder, B.J. Thomas, Kevin Raleigh, Brenda K. Starr, "Rags To Riches" (theme song), "Losin' It" (theme song), Shelley Duvall's "Bedtime Stories" (theme song and episodes), "Santa Barbara" TV show (several cuts with Indie artist Aeone), Chico and Bunny Debarge, Shari Belafonte, Chris Norman,Tim Weisberg, and Philippine based Viva Recording artists Jaya and Donna Cruz. He has also had songs on soundtracks such as "License To Drive", "Youngblood", "TJ Hooker", and "Nobody's Fool".
In addition to his credits for engineering on the Emmy Nominated "MISTS OF AVALON," with Palette Records' artist, Aeone, Jeff co-produced, co-wrote, performed, mixed & mastered on "From The Vault (A Collection of works by Rick Springfield and Jeff Silverman)" with Multi-Platinum artist, Rick Springfield which was released on Frontiers Records in March 2010.
Jeff produced, co-wrote, performed, mixed and mastered on both Grammy & CMA award nominee Michael Peterson's project and award winning Debra Lyn's "A Cold Wind Blows" album released in 2014 on Palette Records. Other Indie artists that he has worked with include Kori Carothers, Chronic Edge, 7 Horses, Graham Murray, Oxford Train, Elisa Fiorillo-Dease, Dease & Reese and Jerzee.
July 2015: Jeff Silverman and Aeone produced and arranged her newest album release, "Love Is The Healer". Jeff also mixed, mastered and engineered the project and co-wrote on a number of tracks from Palette Music Studio Productions (MSP) while connecting with Aeone via Palette's Virtual Studio Networks (VSN) – Nashville, TN. Aeone recorded from The Chateau, her studio in Los Angeles, CA. Click Here to read more.
Background and thoughts from Jeff:
I was born and raised in New Castle, Pennsylvania. I started playing piano at age 5 and then began playing guitar and writing songs when I was 10 years old. Suffice it to say, there were many jam sessions at the Silverman household in those days… I can still remember seeing The Beatles' first appearance on the Ed Sullivan show and from that point on, I knew music was going to be my life-long passion.
During my teens and early 20s I played with local bands touring the U.S. In 1976 I decided to move to Los Angeles, California. Within months I landed a gig as Rick Springfield's lead guitarist and background vocalist. While touring with Rick, my original songs were heard by Carman Productions (Springfield's management and production company at that time). Soon after, they signed me to an artist/production contract to record, perform and co-produce my originals at Sound City Studios with Bill Drescher, Rick's Engineer and Co-Producer.
Shortly after doing my first CD project with Bill, I began engineering and producing my own albums. Because I had my own music studio, I had the creative freedom to record, write and produce my own songs whenever the inspiration hit me. Soon, my recording and songwriting started to get so much industry attention, I began producing and co-writing for many established and Indie artists in California as well as worldwide. This also led to a staff writer position with Stone Diamond Music, Motown's Publishing Company in California.
In 2006 I opened Palette Music-Studio-Productions in Nashville, Tennessee where I specialize in artist development, songwriting and music production.
More info found on the Palette Music Website